Search
205 result(s) matching "", (0.02 seconds)
Odd behavior of embedded script that works fine when standalone
Hello, I have a script that works fine standalone (right of the snapshot), but when I embed it on a html5 app, it is buggy. I tried to run it using viewer-minimal and it is buggy just the same.
The standalone script is here : https://openjscad.org/#https://gilboonet.github.io/scripts/test_tr2.jscad (must rotate X to 90). The script makes cross sections from a volume, here the bug is that the top of the orange slices is missing. With other 3d models other parts are missing. I will try to investigate this but I'm not sure it is something I'm able to debug.
Odd behavior of embedded script that works fine when standalone
I didn't find exactly what is different between the two environments (normal jscad and min), could be getBounds() into min.js. But I fixed it using hard coded values, and it's ok. The aim of my app is to allow average user to select a 3d file then a script that will run on the model from this file and at the end create a pdf file with the cuts and folds needed to build the model. On my site I also put links to the jscad script I use to people can learn from them, but sadly if the first script was easy, it quicky gets difficult for beginners. The scripts app is here : https://gilboonet.github.io/OpenJSCAD.org/packages/web/scripts.html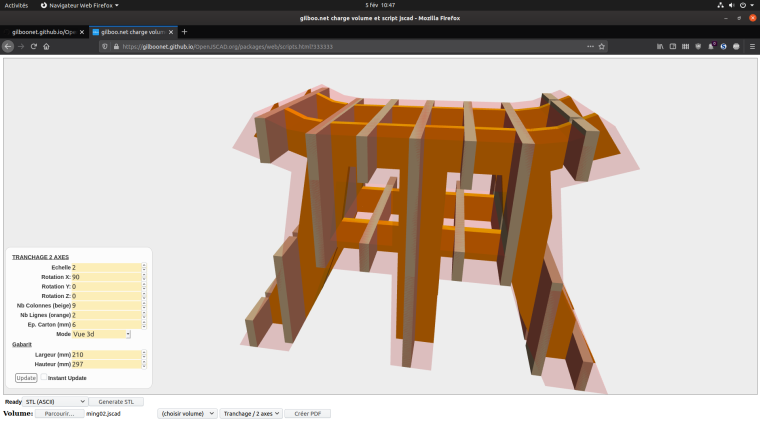 Jscad code for exposure to the public
Hello all,
I was thinking about a website, where Jscad is hosted and people can design armbands online and the .stl is sent to me through the website and then I 3D Print it after.
The parameters could be simple for now e.g. band diameter, text, etc.
I was wondering if I could use sliders to vary the diameter and other parameters, and the result can be rendered?
Additionally, would the Jscad code be visible to the public? If so, is there a way to hide it?
Kind Regards
my html5 / jscad app for "digital cardboard crafting"
Hello, I'm using JSCAD for years now to help me build cardboard objects, statues and furniture. I decided at the beginning of this year to build a website offering users to do the same. My crafts need essentially 2d patterns to cut, fold and glue. I used last V1 version that I embedded in my website, and replace viewer-minimal.html with some custom html allowing the user to first choose a 3d model (from a .jscad script, a .stl file, or a .obj file), then one of my crafting scripts that runs on the chosen 3d model. User configures the craft as needed, then run its 2d mode that renders 2d data. Last, user click on "Créer PDF" (create PDF) that uses the 2d data and make a .PDF file. It works fine and not only on pc (I use Ubuntu/Firefox) but also on tablet (Android).
You can use it here : https://gilboonet.github.io/OpenJSCAD.org/packages/web/scripts.html
There are some example models on "(Charger volume)".
"Depliage" script takes lot of time to render and it can take advantage of colored zones (materials) from a .obj file.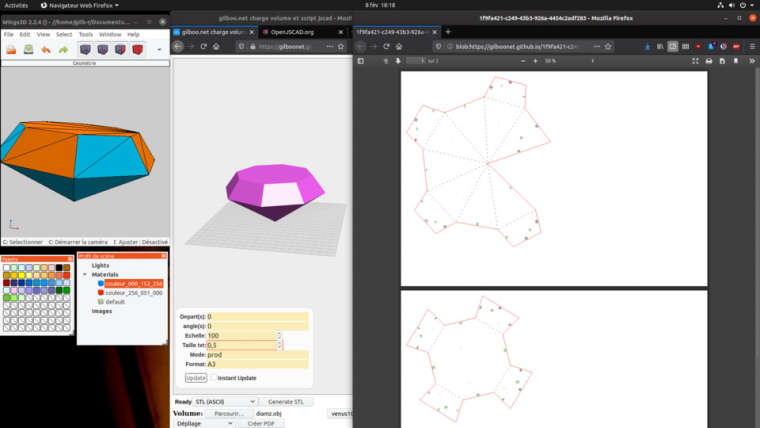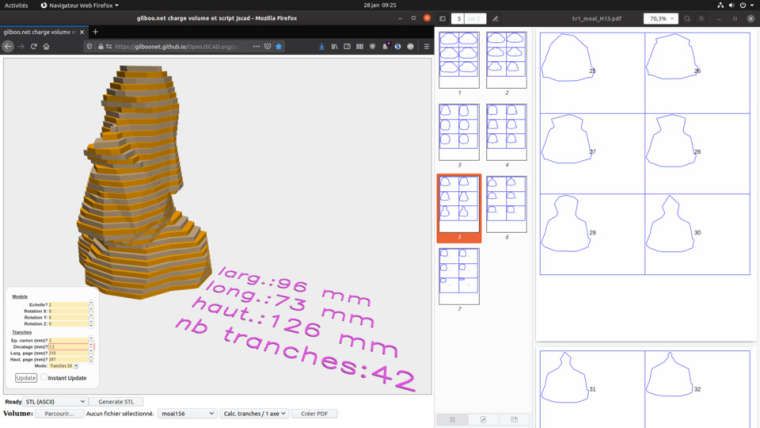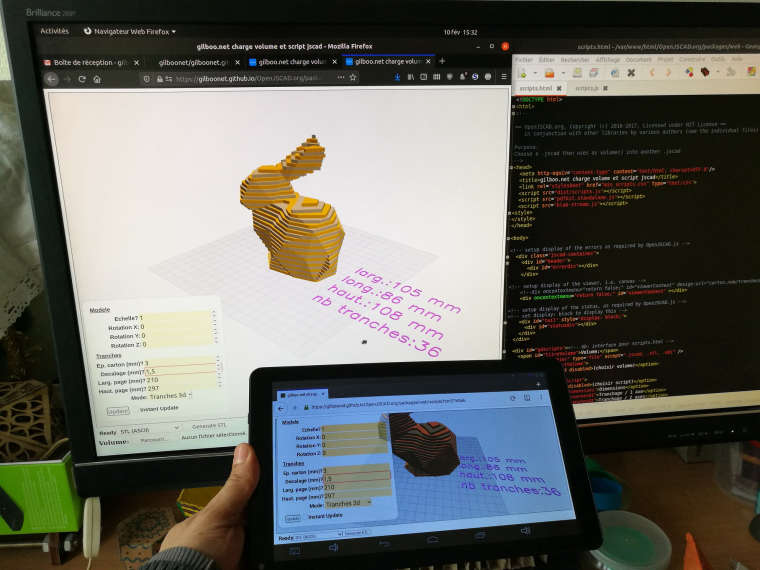 code is here (but beware I'm not an IT pro) https://github.com/gilboonet/gilboonet.github.io/tree/master/OpenJSCAD.org/packages/web see scripts.html and dist/scripts.js )